Registered Veterinary Technicians
*Corey, RVT

Corey was raised in the Village of Lewisburg since the age of three. She attended Tri- County North High School and MVCTC for Pre-Vet Tech. After graduating in 2010 she attended The Vet T
ech Institute at Bradford and earned her Associates in Applied Science in February of 2012. Working at another clinic for almost two years she joined Dr. Judd in September of 2013 to help bring the small animal medicine to life here at Prices Creek Veterinary Service. She now enjoys her wonderful place of work and all of the clients and pets that have visited. She has a great passion for all animals big and small and her special interests are dentistry and behavioral medicine.
She shares her home with her husband Alvin, two children, a Labrador Retriever named Beanie, a French Bulldog named Rocket, and a cat Lily. When she isn't working she enjoys working in the garden, fishing and spending time outdoors.

*Lisa, RVT

Lisa came out of retirement to work part-time with us. She brings 20 + years of experience as a registered veterinary technician to our team. Lisa is a Lewisburg native, and some of you may recognize her from her previous days at 2 other clinics in Preble County where she worked before retiring. She shares her home with her husband, 2 crazy happy boxers, and several draft ponies.

*Erin R., RVT

Erin is a 2010 graduate of National Trail High School and hails from Eldorado originally. Erin started working with us while in Vet Tech school in 2018. She graduated from the Veterinary Technology Program at Sinclair in 2020. Erin likes to travel, hike, and take nature photos in her spare time. She has 2 dogs, 2 cats, and 2 kids at her home in Eaton.

*Angel, RVT

Angel is a 2018 graduate of Sinclair Veterinary Technology Program. She completed her internship with us in 2018, and then came back to work for us full time in 2020. She lives in West Milton with her husband, son, several cats, and an Australian Shepherd named Oreo.

Veterinary Assistants
*Erin S.

Erin joined us in November of 2020 as an assistant, and is currently in college to become a Registered Veterinary Technician. She lives in Phillipsburg with her family on their own mini farm, complete with cows, alpacas, a horse, a Chincoteague Pony, cats, dogs, ducks, chickens, and a donkey.

*Haleigh
Haleigh returned to us in 2021 after a hiatus from wrangling a houseful of small children. We are happy to see her smiling face back at the office! Haleigh lives in Lewisburg with her husband and children, a Bernedoodle named Phoebe, and a French Bulldog named Mamie.


Veterinary Assistant/Front Office
Lee
Lee was raised in Mesa, AZ until the age of 13. She currently lives in Lewisburg. She graduated from Tri-County North High School and attended MVCTC for Medical Office Specialist traini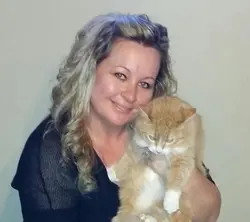 ng after graduation. Lee has been in the medical field for over 20 years. She has always had a deep passion for animals.

Lee has 3 cats at home that she and her family love dearly; Nala, Licorice, and Fuzzy. When Lee is not working, she enjoys camping and spending time with her family.
Office Supervisor/Patient Greeter/Food Tester/General Pest
Dennis
Dennis is a large orange tabby who calls the clinic home. He can usually be found lounging on the front desk or in the various windowsills of the office. When he's not busy supervising the day to day operations of running a vet clinic and greeting patients, Dennis can be found scarfing down unattended lunches and being a general pest around the office. We love him anyway! Dennis now has his own Instagram page!